By Mark Cassello
How the Left Alienated Millions of Americans
As the midterm elections edge ever closer, Democratic candidates and liberal pundits have stepped up efforts to characterize Tea Party candidates and their supporters as fanatics. Whether it is Bill Maher's Dog Day Afternoon-esque ultimatum to release a Christine O'Donnell video per week, Jon Stewart and Stephen Colbert's satire of Glenn Beck's "Rally to Restore Honor," or Keith Olbermann and Rachel Maddow's long-fought effort to paint Tea Party supporters as members of a dangerous lunatic fringe, it appears that Progressives lack the empathy to understand the frustration of Tea Party supporters and the imagination necessary to reframe the discourse in a way that could capture the passion of the Tea Party and channel it into constructive debates over policy, and perhaps even, support of a Progressive agenda.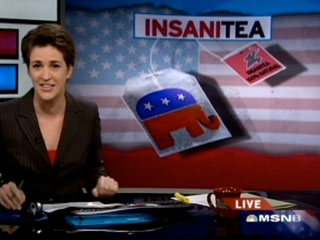 After stunning defeats in 2006 and 2008, the Republicans awakened to the realization that a vast segment of the American voting population had turned against them. Republicans understood that they would have to acknowledge their mistakes, embrace this anger, and find a way to channel it if they were to return to power. At the same time, Democrats did worse than ignore these Americans: They attacked them.
Missteps of the Left
Democrats basked in the euphoria of two stunning victories. Some pronounced that a generational shift had begun. Others, feeling invincible, began to attack the Americans who began to appear on street corners, at town halls, or in parking lots voicing concern over the nation's new direction. In a concert of scorn and derision, Progressive politicians, pundits, and bloggers busied themselves articulating reasons why the "Tea Baggers" — a predominantly gray-haired, white, zealous, nativist demographic — are not, and should not be part of their constituency. This shortsighted tactical blunder sealed the Democrats fate for the 2010 midterm elections.
Of course, the negative attitude of Progressives towards Tea Party supporters is not without precedent. After all, it was Barack Obama himself, as a candidate in April 2008, who said that "it's not surprising . . . that" Americans in states like Pennsylvania and Ohio "get bitter" and "cling to guns or religion or antipathy to people who aren't like them or anti-immigrant sentiment or anti-trade sentiment as a way to explain their frustrations." Obama's remarks, made in San Francisco to a crowd of wealthy liberals, is a legitimate theoretical framework with which to interpret voter cynicism towards government and the persistence of ethnic and cultural dissonance in America. However, it became the bellwether moment for those who would characterize Democrats as effete, out of touch, intellectuals.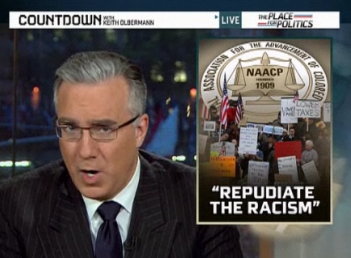 But more importantly, Obama's remarks hurt the feelings of millions of Americans whose beliefs are much more than blindly followed abstract precepts, as Obama's statement implies. He had kicked them while they were down rather than lifting them up as he promised. This made his rhetoric of "hope" and "change" ring hollow for millions of Americans. Obama's remarks inflicted deep wounds throughout the Midwest and in other areas of the country where the Tea Party movement has now gained strength. Worse still, Conservative commentators pour salt in this wound daily as they quote Progressives who continue to caricature and mock supporters of the Tea Party and Tea Party candidates. Far from poking fun at a "lunatic fringe," Progressives are insulting millions upon millions of hardworking, patriotic Americans whose votes could ensure continued pursuit of Progressive policies.
Could it be that the unending stream of negative portrayals designed to marginalize and alienate Tea Party supporters has amplified the narrative that the country has been taken over by a "regime" as Rush Limbaugh smugly grumbles? Such an explanation seems more plausible than simply dismissing a third of the population as ignorant racists or the unwitting stooges of Conservative media moguls.
However, with apparently little concern, the American Left has chosen to dismiss this third of the population for the first two years of the Obama presidency. A third of the population whose passion and energy could ignite the type of change the Left has longed for since the 1970s. So while the Left has dedicated their time and energy to mocking these Americans, Republicans have worked tirelessly to find the right vocabulary and imagery with which to harness this key collective.
The Right's Winning Non-Rational Propaganda
Packed shoulder to shoulder in the Marriot in Anaheim, supporters roar as Sarah Palin shrilly yawps, "Are you ready to fight for your freedoms?" Her question is utterly devoid of substance. However, it still inspires an impassioned and sincere audience response. It is this passion that will drive many of these voters to the polls where they will likely cast votes for Republican candidates and leave Democrats and Progressives questioning how so many people can vote against their own self-interest.
Propaganda in a Democratic Society
Of course, appeals to passion are a common gambit for political figures of any ilk going back millennia. President Obama's mantra of "hope and change" tapped similar emotional wells as Palin's call to clap for "freedoms." Still, it is remarkable to see the extent to which such appeals resonate and endure in effectiveness. Or perhaps it is not remarkable at all. Propaganda aims to forge an emotional connection with an audience, and then direct that audience to act – Donate! Shop! Vote!
In Propaganda in a Democratic Society (1958), Aldous Huxley differentiates two forms of propaganda. The first, which he lauds, is called "rational propaganda." This type of propaganda agrees with the "enlightened self-interest of those who make it and those to whom it is addressed." In other words, the purveyors of and the recipients of both stand to benefit from the dissemination of this propaganda.
The second, called "non-rational propaganda," is not necessarily aligned with anyone's "enlightened self-interest," but is instead "dictated by, and appeals to, passion." The former, he argues, is vital to a democratic society that serves the long-term interests of all while the latter creates a world filled with "misery" in which people, moved by passion more than reason, are driven to act against their own self-interest.
The Rise of Non-Rational Propaganda
For the past three decades, the average American has been pummeled by an unprecedented amount of non-rational propaganda. This is the type of propaganda commodified and promulgated by the Limbaughs, Hannities, Boehners, and Becks of today. As Huxley would explain, these sources exchange arguments founded "upon the best available evidence fully and honestly set forth" for strings of half-truths, catch phrases, and scapegoats that "cunningly" associate "the lowest passions with the highest ideals."
Passion for power and profit is cloaked in the fabric of America's highest ideals. In today's twisted America, you are treasonous if you favor legislation that offers an additional 30 million Americans the chance to affordably purchase health insurance. You are Marxist if you argue that the wealthiest Americans could afford to pay an additional 3.6% in income tax. You are unpatriotic if you question the motives of military action that have led to the displacement and deaths of millions of innocent human beings at a cost of trillions of dollars.
Republican Propaganda Feels Good
Why are Republicans so good at propagating non-rational propaganda? Republican pundits and politicians have learned how to capitalize on Americans' deep, unabating desire to protect themselves and their families from some form of "violation." It is understandable why a fear of being violated exists in our culture. For decades Americans have been systematically exploited — by politicians, by corporations, and by each other. With exploitation comes a feeling of helplessness and shame: Why can't I provide for my family? Why can't my children attend a better school? What happens if I get cancer? Will I be able to retire? However, Americans are also acculturated towards optimism. So, coincident with persistent feelings of impotence, shame, and anger are feelings of possibility, pride, and love. Republican propaganda is especially adroit at addressing both sides of this American dichotomy.
Republican propaganda feels good because it empowers individuals to take action against fabricated foes. It thereby channels feelings of impotence, shame, and anger into seemingly constructive outlets. Consider the healthcare debate. Sarah Palin claimed that Democrats would create "death panels," and Chuck Grassley told his constituents that the government wants to "pull the plug on Grandma." Grassley and Palin offered the sensation of empowerment by suggesting that voters could literally "save Grandma" by taking action. Voters were encouraged to make signs and speak out at town hall meetings, which they did in great numbers. For many Americans, this engagement felt good and productive.
However, the sad reality is that Grandma's days are still numbered. The real reason Grandma's fate still hangs in the balance is that America relies an employer-based, for-profit health care system where investors benefit when care is restricted and coverage denied. But again, instead of thinking long-term and addressing this root cause, Republicans advance propaganda that urges voters to advocate for repeal of the healthcare bill. A tangible measure that voters can work towards, but one that does little to resolve the ongoing issues with healthcare affordability and effectiveness in our nation.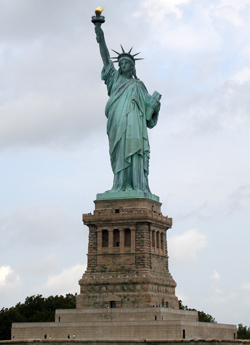 Republican propaganda also feels good because it stirs Americans' feelings of possibility, pride, and love. The Republican's 48-page "Pledge to America" is suffused with evocative, "feel-good" imagery designed to console and revivify America's frustrated and forlorn population. Turning from the stately hues of the royal blue cover, readers are greeted by a beautiful image of the Statue of Liberty set against the backdrop of the pale New York sky. A few pages later, they see the majestic faces of Mount Rushmore. These photos reaffirm a comforting American mythology that promises opportunity and possibility for all while sidestepping challenging questions about America's historical and economic reality.
This propaganda of good feelings is used to transmute patriotism and pride into donation dollars and votes. At Glenn Beck's Rally to Restore Honor, he implies that everyone in his audience is a hero simply by showing up to his rally. For Beck, "[h]eroes are just people who stand and do the right thing. Usually at their own peril, they'll stand and do the right thing." Hearing this, his audience erupts with applause and whistles, cheering themselves. Likewise, Palin's audience in Anaheim thunderously applauds as she speaks about "our great American hero, Ronald Reagan" who "was optimistic and… unwavering in his acknowledgment of the strength and goodness of the American people." They cheer, not for Reagan, but for their own goodness. As the applause subsides in Beck's audience, he asks them to donate to the Special Operations Warrior Foundation (SOWF) while Palin implores her audience to take action and vote: "There's nothing wrong in America that a good old-fashioned election can't fix."
Education versus Agitation: Can Progressive Propaganda Feel Good?
Progressives who agonize about the persistent systemic and structural inequities in their democracy understand that there are many things a "good old-fashioned election" cannot fix. Therefore, Progressives can and should learn to embrace Huxley's rational propaganda. Education is fundamental to forging an enlightened propaganda, and the public faces of Progressive and Democratic politics have some skill in this arena. Media figures such as Jon Stewart and Stephen Colbert use biting satire to educate viewers. Pundits such as Chris Matthews, Rachel Maddow, and Keith Olbermann employ earnest, emphatic, and erudite pleading. President Obama delivers long-winded, professorial lectures. However, the approaches used by these figures achieve only limited success. Progressives need to remember that education never feels as rewarding as the catharsis of yelling at a town hall meeting or hearing Sean Hannity tell you that you are a "great American." A new Progressive narrative will have to make Americans feel as good and as empowered as Republican propaganda does today.
White House Shameless in the Rust Belt
With no sign of chagrin, President Obama and Vice-President Biden paused briefly in Kokomo, Indiana on Tuesday, November 23, 2010 to magnify the success of the Recovery and Reinvestment Act. This visit is likely to further aggravate the un- and under-employed throughout the Rust Belt. Obama's administration appears to have learned little since its demoralizing election defeat.
However, Obama and Biden do have something to brag about. With the aid of $89 million from a Recovery Act grant, Chrysler has diverted $300 million dollars to retain more than 1000 workers this year at a Kokomo transmission plant. Unemployment in this Indiana town has fallen from a high of 20.4 percent in June 2009 to a vastly improved, but still not praiseworthy, 12.7 percent.
The Understandably Wary Working Class
Many Americans are suspicious of positive economic news. To Indiana's working class, Obama and Biden seem like students drawing attention to the lone A on a report card otherwise littered with Fs. Residents in towns from Gary to Evansville hesitate to cheer for jobs that can vanish without notice. They became victims when corporations shuttered factories and shuttled jobs to Mexico in the wake of NAFTA. Today, the state is a veritable wasteland of low-paying retail and service sector jobs.
Somehow, America's eviscerated working class hobbles onward. The first decade of this century saw the culmination of trade and economic policies that led to wholesale rape and pillage: The gap between the wealthiest and the poorest Americans grew substantially while the growing financialization of America's economy catapulted consumer debt from $355 billion in 1980 to a staggering $2.5 trillion in 2009.
That said, Obama's policies have spurred economic growth, and Americans have begun to dig themselves out of this mountain of consumer debt. However, the tangible results of Obama's policies will not be felt in American homes for some time. Meanwhile, Republicans garner public support by complaining that the recovery is a fiction and that the administration's economic policies are dangerous. How can Obama and progressives overcome these talking points and reconnect with embittered Rust Belt voters who are integral to a 2012 victory?
A New Narrative and Symbolic Acts
For two years, the administration and progressives have tried to foment populist outrage against corporations, wealthy Americans, and Wall Street. Republicans seized on this to cast Democrats' populism as anti-Capitalist, and hence, a root cause of the economic malaise. Consequently, Republicans have been able to convincingly argue that the Obama administration is a direct threat to working families.
To combat this, Progressives must acknowledge, appreciate, and appeal to the experiences and motivations of these voters.
First, class arguments are ineffective — even destructive — because most Americans want to become "rich." To tax or criticize the wealthy is to tax and criticize the daydreams of the working class.
Second, vilifying corporations and Wall Street alienates voters. Most Americans work for corporations and know that Wall Street success could one day enable their retirement.
Third, cultural and religious beliefs are sacrosanct to those who hold them. Many feel that government intrusion threatens their beliefs and cultural practices. As the Tea Party's victories demonstrate, today's spurned and excluded constituency becomes the demographic vital to tomorrow's electoral success.
If they wish to remain in power, Democrats and their progressive supporters must visibly demonstrate a shift in tone and tact.
Step 1: Admit Mistakes and Indict Culprits
Narrative: Publicly admit that the federal government has been complicit and short-sighted by allowing irresponsible corporations to exploit and abuse the American family and undermine the American economy.
Symbolic Act: Fire Goldman Sach's employees from key positions at the Federal Reserve and indict corporate officials who brought America's economy to the brink of a Depression. Americans want to see individuals held accountable for the suffering of their families.
Step 2: Ask Citizens to Help Police Corporations and the Government
Narrative: Explain that corporations, like children, must learn how to become good citizens. The government has behaved like a parent who fails to discipline his/her child, and as a result, the nation's corporate children have run wild–making credit default swaps, destroying our coasts with oil, et cetera. Remind the American people that they have a duty and an obligation to help the government become better parents so that our corporations can become better citizens.
Symbolic Act: Progressives should provide and promote outlets where all citizens can publicly shame corporations and the government when necessary.
Step 3: Praise Good Corporations and Reward Them Financially
Narrative: Underscore how corporations (small businesses, local, national, multi-national) have created an era of prosperity for the American people unparalleled in human history. Rather than characterizing corporations as inherently bad and voicing outrage at inequities present throughout our system, hold up particular corporations as model citizens.
Symbolic Act: Legislate benefits to those corporations that keep jobs in America, pay adequate wages, offer good benefits, and serve their local communities. Praise the good. Shame and regulate the bad.
Republicans may have temporarily articulated the frustration of Americans better than Progressives have. However, McConnell and Boehnner's daily rhetorical gymnastics underscore that they are long on platitudes and short on solutions.
If nothing changes in the tenor of American political discourse, Rust Belt Americans will quickly become disillusioned and their fury will live on. A century ago, a similar passion as that which has propelled Tea Party candidates to power was effectively channeled by American Socialist leaders to lobby for an eight-hour work day, higher wages, and protections for all laborers. Today, it remains unclear who will ultimately harness this fury and to what end will it be harnessed.
Related Posts
Obama's Lip Service to the Poor
President Obama's remarks resurrected the nearly century-old debate about the economic impact of raising the minimum wage. Conservatives instantly declared an increase in the minimum wage a "job-ki...
Mark Cassello on Beyond the Beltway (Video)
http://youtu.be/EGWOqU8-jtE February 17, 2013 -- This episode is hosted by Bruce DuMont and features commentary from Chris Robling, Principal at Jayne Thompson and Associates; Michael Miller, As...
Mark Cassello on Beyond the Beltway
February 17, 2013 – This episode is hosted by Bruce DuMont and features commentary from Chris Robling, Principal at Jayne Thompson and Associates; Michael Miller, Associate Professor at DePaul Un...